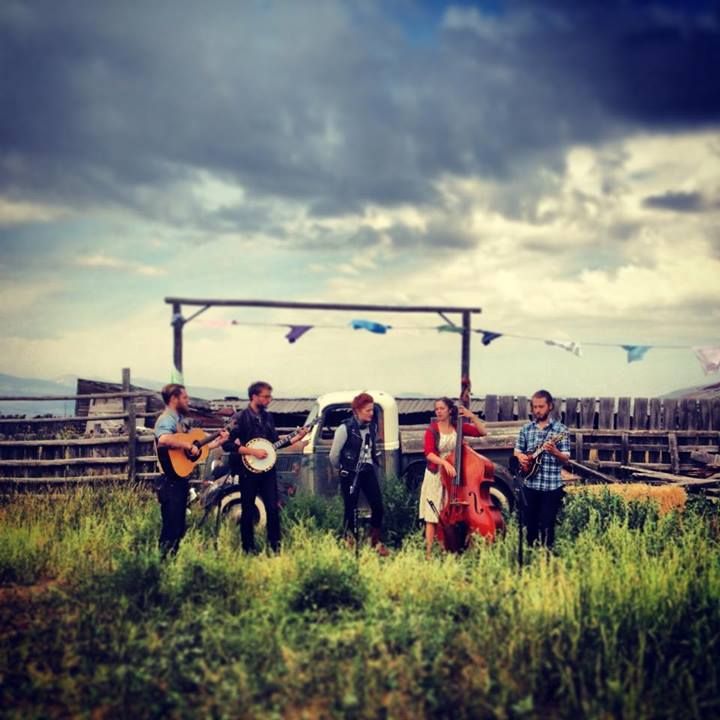 About Joy Kills Sorrow
Some people prefer pop music that behaves like math: once a few familiar variables have been determined—female vocals or male? Acoustic guitar or electric? — the end result should be easy to predict, and always sound the same. That's not the Joy Kills Sorrow method. This forward-thinking string band favors a more unpredictable approach relying on musical chemistry and improvisation. All of the members have been touted as virtuosos, and they effortlessly hunt for unexpected outcomes and new discoveries. "We like experimenting and stretching boundaries," explains guitarist Matthew Arcara, an acoustic player gaining a name for himself as both an up-and-coming guitar slinger and luthier. Arcara has taken home several honors at various guitar competitions including Winfield's National Flatpicking Championship in 2006. 
Joy Kills Sorrow's sound is born from the best of two worlds. They start with a base of time-honored timbres and techniques, yet fashion original songs and arrangements that reflect a love of indie-rock and new folk. While the former has made Joy Kills Sorrow proven favorites with the bluegrass circuit, their emphasis on writing arrangements transcending narrow genres allows them to reach wider audiences. Emma Beaton's haunting vocals and the ensemble's rootsy variation on Americana is just as apt to appeal to fans of Mumford & Sons and Fleet Foxes as committed Stanley Brothers enthusiasts. "It's not that we think traditional music needs improving," Arcara clarifies. "This is just how we happen to play it." 
Joy Kills Sorrow brings together an eclectic mix of musicians who each have classical and/or jazz conservatory training, though collectively, they ambitiously utilize their years of study to hone a new acoustic territory yet discovered by many of today's top artists. It's an amalgamation of lamenting music of the heartland, singular stories of heartache and laughter, beautiful string arrangements, and five musicians who grew up listening to indie-rock, jazz, and pop music that churn out impressive tunes with an incredibly contemporary sensibility. 
Singer Emma Beaton, who was nominated for "Traditional Vocalist of the Year" at the Canadian Folk Music Awards 2010 and won "Young Performer of the Year" at the age of 18 at the Canadian Folk Music Awards 2008, has captivated critics and fans alike. She quickly caught the ear of bluegrass super-star Laurie Lewis, who says she has a "voice like a laser."  Beaton is also an accomplished instrumentalist, having studied cello at Berklee College of Music and worked closely with Crooked Still's Tristan Clarridge and Rushad Eggleston. 
Bassist Zoe Guigueno, originally hails from British Columbia, where she studied jazz bass at Canada's prestigious Humber College in Toronto, graduating with Honors standing and the President's Award for the School of Creative and Performing Arts.  Prior to joining Joy Kills Sorrow, she made a name for herself touring extensively in Canada and Europe with acclaimed Canadian bands Fish & Bird, Crooked Brothers, and Anna Atkinson. 
Filling out the group is Jacob Jolliff and Wesley Corbett. The former is Berklee School of Music's first full-scholarship mandolin student and a veteran performer, who has toured professionally since the age of 11 and shared the stage with such mandolin greats as David Grisman and Mike Marshall. Corbett, a banjo player, has toured nationally with Crooked Still and The Biscuit Burners, and he's currently teaching banjo at Berklee School of Music. 
"We're always looking after the interest of the music as a whole, even if it means working for months on new material, or making big changes long after we've settled into an arrangement," says Beaton. "We all have plenty of opportunities to show our talents in our music, but it's the understated approach we usually take that makes our music special."
---
Joy Kills Sorrow disbanded in May 2014. Thank you for your continued support!